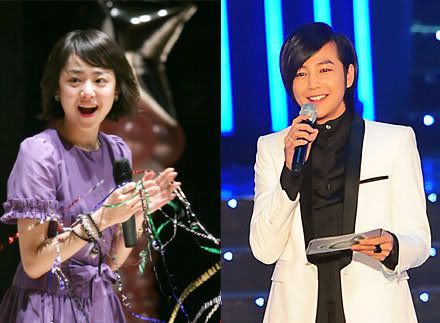 It had been proviously reported that You're Beautiful's Jang Geun Suk was to MC the 2009 SBS Drama Awards, but it has just been announced that his co-MC will be actress Moon Geun Young. Last year, Geun Young was the youngest actor/actress to win the SBS Drama Awards' Daesang Award (Grand Prize) for her role in the Painter of the Wind at the age of 21. Both Geun Suk and Geun Young are 22, making them the youngest MCs to ever host the event. The Drama Awards will be held on December 31st.
Not all finalists for all the categories have been released yet. Geun Suk is nominated for Best Couple with Park Shin Hye for their role in You're Beautiful, but they're up against stiff competition. The other finalists in the best couple category are: Ryu Shi Won & Kim Hye Soo from Style, Lee Seung Gi & Han Hyo Joo from Brilliant Legacy, Yoo Ji Tae & Choi Ji Woo from Star's Lovers, Jung Gyu Woon & Lee Soo Kyung from Loving You a Thousand Times, So Ji Sub & Han Ji Min from Cain and Abel, Cha Seung Won & Kim Sun Ah from City Hall, Ji Sung and Sung Yuri from Swallow the Sun, Jung Kyung Ho and Lee Min Jung from Smile, You, and Choi Joon Yong & Oh Young Shil from Temptation of Wife. Those of you that can navigate the site can actually vote once in each category.
You're Beautiful fans might have something else to look forward to at the awards. I'm not 100% sure, but I think that Jung Yong Hwa is up for the Best Newcomer Award.
cr: asiae.co.kr
from : seoulbeats

Thanks for Reading and Leave your comment...^^
Translate in your language