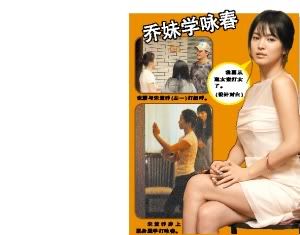 Information Times News directed by Wong Kar-wai, Tony Leung, Zhang Ziyi and Chang Chen, who starred in "great master," began shooting late last month. Recently joined the South Korean actress Song Hye Kyo to determine who was playing a female Wing Chun master. Coupled with the earlier set of Gong Li, Zhao Benshan and his song and dance duet disciples, this way, "great master" can be called a star-studded. Compared to gather Tony Leung, Faye Wong, Zhang Ziyi and other stars, it took five years, has just finished filming the "2046", Wong Kar-wai film "great master" the same preparation for the five years between the two is really something to fight the one.

Starring Donnie Yen, "Ip Man 2" has been Shake, Wong Kar-wai's "great master" are still at the start phase, during which they experienced actor Tony Leung Chiu Wai Yip old suffered injuries to his left hand to lay-off back to Hong Kong governance twists and turns. There is no grounding for a martial arts actor who will have to cope with a large number of martial arts drama Wai Chai more difficult, he plays in addition to and Zhang Zhen, Zhang Ziyi fighting hand to hand, the girls played with the Wing Chun master of the Song Hye Kyo also has played drama, but in the meantime the two has not yet formally opera, just joined the group of Song Hye Kyo in addition to learn Cantonese, is also busy these days practicing. It is seen in martial arts room, choosing to act in her room a lot of flexibility training and warm-up exercise, the master began to teach her to play Wing Chun.

In practice the process, we can see that Song Hye Kyo very carefully to remember every moves, and skill flexibility, after several hours of non-stop practice, has begun to master Wing Chun tips. When she walked out of the room Lian Wan Gong, covered with sweat, but also immediately tore off her arm to large chunks of bone-cream, and then softly touching her arm. Wong Kar-wai to each actor's movements demanding, apart from filming a few characters but also take the time to practice, because the face of Donnie Yen's "Ip Man 2", Wong Kar-wai never be taken lightly. Dongdong


Han enthusiastic about making Chinese films


Many South Korean stars are happy and status of the high Chinese directors, from the earliest, "Seven Swords" and Kim So Yeon as Tsui Hark by the cold, "myth" where Jackie Chan, Kim Hee-sun to bite the hanging wire, "The Promise" Chen Kaige's Jang Dong-gun to almost vomit blood ... ... They can not only access to international fame through Chinese-language films have the opportunity to get rid of in South Korea to maintain the established image to expand opera way.

@google trans via information times
It was said WKW has prepared for this movie almost 8 years
?
edit
: another report
Wong Kar Wai new movie has requested the Song Hye Kyo
Wong Kar-wai film "great master" Since the low-key start shooting has been shrouded in mystery, the initiative broke the square yesterday's piece, said the media photographed to Song Hye Kyo mysteriously appeared in Guangdong filming base, practice is quite hard, kung fu moves like a extremely Wing Chun. Meanwhile, Zhang has also made a special trip to visit friends, "Joe sister" exchange martial arts experience, which looks fairly close. But as regards the role of Song Hye Kyo, chip side has expressed that non-disclosure. Directed by Wong Kar-wai has been the star has a strong appeal, his preparations for the 8-year-old martial arts giant star Song Hye Kyo joined the foreign system, it has even become a full international norm, using buzzwords to describe is "better and better, well versed in foreign languages, and very mysterious," . At present, Tony Leung, Zhang Ziyi, Song Hye Kyo, Zhang Zhen, etc., have input into the group of actors who are professional martial arts training
.
.
.
Guangdong Province has been secretly filming a period of time Wong Kar Wai's new film "generation master," and recently re-Pu has biggest names to join. Hong Kong media take pictures of South Korean actress Song Hye Kyo in the "great master" to shoot the scene playing the Wing Chun. In response, film advertising side to the media yesterday officially confirmed Song Hye Kyo is indeed an important performance in the film, but also the specific role of temporary security.
@sina.com
cr : utkim@soompi
Thanks for Reading and Leave your comment...^^
Translate in your language